The winners for the BioImaging Competition 2022 have been selected!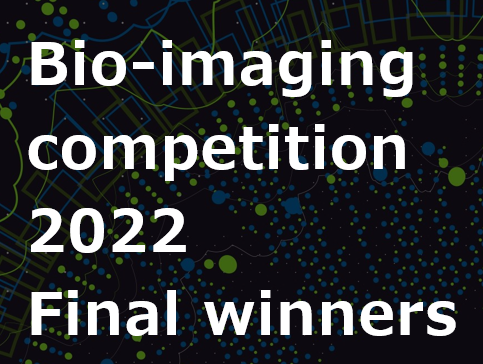 The recent Bio-Imaging Competition 2022 was a great success! A big thanks to all those who entered the competition in such a short time! Images were shortlisted according to their visual impact, informative content, and technical proficiency by a team of researchers, student representatives, and image analysists. You can see the final winners listed below:
1- Gautier Follain: "Nothing looks as futuristic than nature"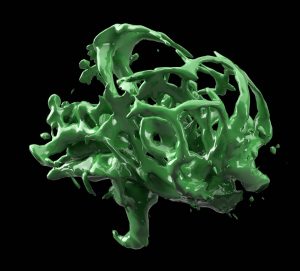 Partial segmentation of the blood vessels from the head of a zebrafish embryo. Confocal acquisition, followed by Imaris segmentation and 3D rendering.
Jacquemet and Ivaska labs (Biocity)
Leica SP5
Congratulations to our first winner who received a 100 euros Power Gift Voucher.
2-Monika Vaitkeviciute: "The rose"
A human osteosarcoma cell forming filopodia on N-Cadherin substrate. Actin is in blue, and Myosin X is in red. The name of the image is "The rose" because this cell reminds me of the view of the rose from above.
Cell migration lab, Turku Bioscience
Zeiss LSM880 with Airyscan
Congratulations to our second winner who received a Fujifilm Instax Mini 11 Instant Camera.
This time we have two images that got the same votes for third place:
-Pierre Heemeryck: "Digital tree"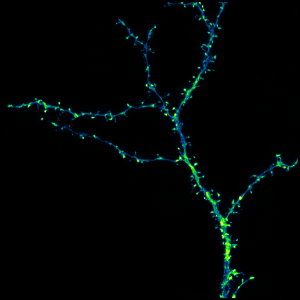 On dendrites, spines are the messengers of the nervous system. Neurons sometimes look like trees in the Finnish forest. The image was post-treated with Fiji software to remove the background and modify colors.
Coffey Lab, Turku Bioscience
Zeiss LSM880 with Airyscan
-Defne Dinc: "Soap bubbles"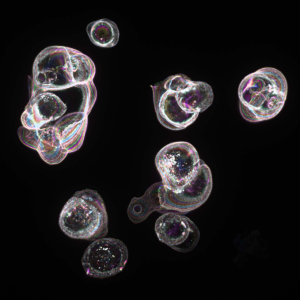 Primary human mammospheres labelled for phalloidin, depth coded LUT
Peuhu Lab/Institute of Biomedicine, FICANWest, Biocity CIC
3i Marianas CSU-W1 spinning disk
Congratulations to our winners who each receive 4*Finnkino vouchers.

This work is licensed under a Creative Commons Attribution 4.0 International License.