The First Turku Imaging Day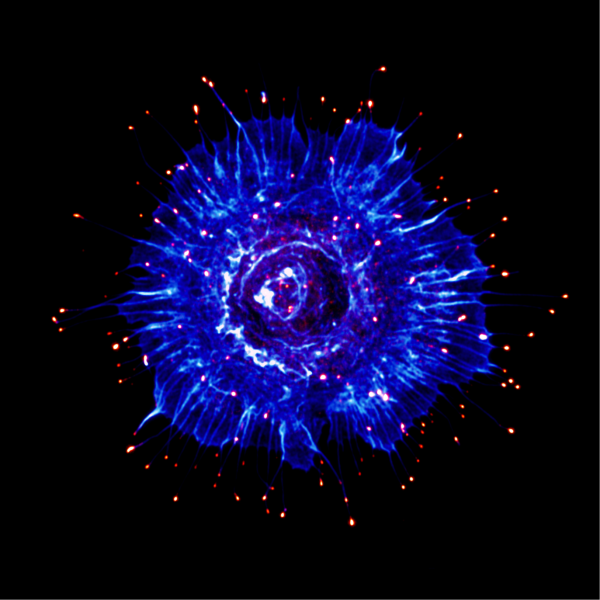 Turku Imaging Day, the very first seminar day of the Field of View Research Program and Turku BioImaging, took place on 3rd October 2023. The event coincides with the 80th anniversary of the Faculty of Medicine of the University of Turku celebration week.  The aim of Turku Imaging Day was to bring together the whole imaging community in Turku to learn from each other, network, and strengthen mutual connections. We welcomed over 150 participants in all stages of their scientific careers from first year Master's students all the way to distinguished high-profile academicians affiliated to both Turku's universities (image by Monika Vaitkevičiũté).
Indeed, the opening words were given by Patrik Henelius, the dean of the Faculty of Science and Engineering at the Åbo Akademi University, followed by the first lecture of the day given by Pekka Hänninen, the dean of the Faculty of Medicine at the University of Turku. Another speaker in the first session, which was dedicated to revolutionary discoveries taking place in Turku was Kirsi Virtanen, one of the world's leading experts in adipose tissue biology. Other sessions of the scientific program consisted of talks by researchers from imaging core facilities in the Turku campus and the Euro-BioImaging ERIC, which has its headquarters in Turku, including the Infrastructure's Director General, John Eriksson. In order to give space to early-career researchers, the scientific program included a poster competition and exciting flash talk competition where researchers presented their projects in two minutes using only images. After the scientific program was closed by the vice-rector of Åbo Akademi, Reko Leino, the winners of both competitions were announced at the evening Get-Together. After that, the Get-Together guests enjoyed good food and drinks, great company of their friends and imaging fellows, and listened and danced to music until late evening hours.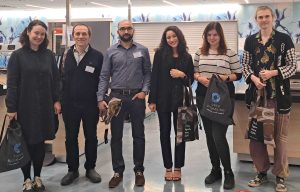 Winners of flash talk and poster competitions, from left: Joanna Pylvänäinen, Gennadi Yegutkin (on behalf of Samuel Svärd), Umair Khan, Erika Atencio Herre, Ana Popovic, Jonne Kunnas (image by Junel Solis).
The first Turku Imaging Day was a great success and it demonstrated that the community in the European imaging capital has a huge potential. We were indeed honoured to attract the attention of so many brilliant imaging enthusiasts. Thanks to all speakers, participants, organizers, and sponsors, and see you all next year!
The general information and the event program can be found on this page.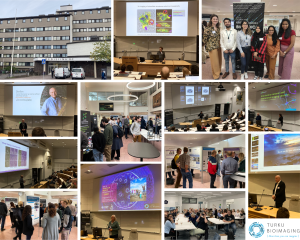 Highlights from Turku Imaging Day (images by Irina Belaia, Jatta Helin)